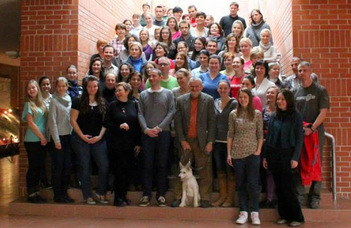 WE ARE LOOKING FOR PhD STUDENTS, TRAINEES, AND TDK STUDENTS!
Our group is always looking for researchers, research candidates, and even enthusiastic high school students. We encourage you to contact your prospective subject leader by e-mail and request a personal meeting.
We currently offer positions to postdoctoral researchers and part-time undergraduate students. To apply, please email seniordog@ttk.elte.hu.
Expectations for postdocs:
A university degree in science (preferably medical, veterinary, biophysics, physics, biology, psychology, cognitive neuroscience, or other relevant field)
Excellent knowledge of English
Openness to teamwork
Willingness to learn the methodology of fMRI experiments
Candidates should be competent in one of the following:
fMRI data processing and analysis (knowledge of MATLAB/spm)
MRI machine operation (running experiments, editing sequences)
Cognitive aging (human) literature
Experiment design (ideally in the field of cognitive neuroscience)
Data analysis and statistical skills
Neuroanatomy (ideally dogs)
Physiological background of aging
Animal experimentation (FELASA certificate for experiment directors (level C))
Analysis of MR images (e.g. volumetric studies)
Anatomy
Applications for PhD courses can be submitted until May 31st each year. English language skills, experience with dogs, openness to communicate with owners, basic statistical knowledge, MSc thesis in Biology (an additional advantage if done at the Department of Ethology), conference presentation, and publication are advantageous. Please contact the topic leader well in advance, several months before the deadline, to prepare your topic plan.
To apply and submit an application form: https://www.elte.hu/en/doctoral-school-of-biology
Dean's Office, Unit for Doctoral, Postdoctoral, and International Affairs Tímea Konczné Remler, Science Organisation Officer Address: No. 0.128. Phone: (1) 372-2602
The application form must include:
A short curriculum vitae of the applicant with details of previous professional activities (list of publications, participation in research work, list of manuscripts, prizes, grants, etc.)
A short research plan - outline of the topic of the chosen project - signed by the applicant and the supervisor
A photocopy of the diploma (including, in the case of diplomas obtained abroad, its naturalisation for further studies, as decided by the Rector's Office)
A photocopy of the transcript of records or a certificate of credit for the subjects completed
A copy of the certificate of at least one state-recognised language examination at intermediate level (B2) complex (formerly C type), and, in the case of language examinations taken abroad, its accreditation by the Language Examination Accreditation Centre of the Education Office
A written declaration that the research costs are covered or a letter of acceptance of the place where the research will be carried out, if the applicant is not applying for a scholarship
An official certificate of good character
One standard small (French) and one medium-size post-ready envelope (available from post offices) addressed to the applicant's address
A copy of the cheque receipt for payment of the application fee
Requirements and conditions for admission:
Applications for doctoral studies are open to final-year Master's degree (MA/MSc) students and holders of a Master's degree (MA/MSc).
Evaluation criteria:
Applicants to each doctoral school are interviewed by a three-member committee, and the admission procedure is conducted by a three-way admissions committee. The following are the evaluation criteria:
General professional intelligence
Preparation and competence in the chosen discipline (the field of the doctoral school's training programme)
Degree and academic record
Academic work and other academic activities
Feasibility of the research project
Language knowledge - admission criteria: a level of at least intermediate (B2) in one language (formerly C level)
The admission tests are scheduled to take place from 6 June to 1 July each year.
FAQ of internship students
How and how long can I stay for an internship?
Usually, interns stay for around 2 to 5 months with us. Overall your stay duration will depend on your own time and the possibility of supporting yourself or being supported by your university/institution.
What will I be doing?
We have several sub-projects running in parallel, which require help with data collection and/or analysis. Any other valuable skills (writing, programming, other software-related skills) are also appreciated. In particular, we appreciate and welcome your own initiative to explore ideas within the framework of the project's goal and the time you can spend with us. If your internship is promoted by your university/institution, you might be required to write a report about your experience with us. Other writing tasks could involve your participation in publications, which will be decided by mutual agreement.
What do you offer me?
We offer to share/teach you skills (behavioural coding, statistical analysis), add an experience to your CV at the least, and also the chance for co-authorship and a letter of recommendation. It is not unusual, given mutual match and interest, to consider you as a future colleague for a PhD student position.
How can I find accommodation?
This will primarily depend on your own decision, but where possible, we will help. The dormitory of ELTE university occasionally offers rooms to our guest students for a relatively low price, so let us know if you are interested.
Can I come with my dogs to the department?
As an institute working with dogs, we rely on frequent visits by owners and their dogs for our experiments, and so it is also customary for our colleagues to be allowed to bring their pets to work. It is, however, crucial to know the difference between the official and unofficial rules regarding dog presence at the department. Officially dogs cannot walk unleashed in the university building nor use the standard elevators. We also cannot guarantee to foreign visitors that it will be easy to find accommodations where dogs are allowed, nor is it to be taken for granted that a steadily increasing number of dogs in the department will be a situation free of dog-on-dog conflicts (so your honest estimation is required and we reserve the right to ask you leave your dog at home if problems arise). While pets are usually welcome, consider carefully if during your visit you need to take along your dog, and outweigh the risks and problems that could arise for you, your dog and the ease with which to transport and house your self and your pet.
---