The world's smartest dog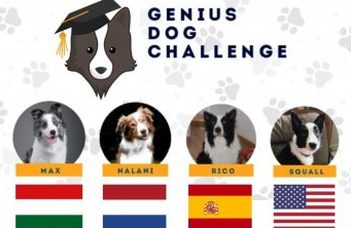 The world's smartest dog… and a never-seen-before way of doing science
An international research project conducted by scientists of the Department of Ethology, Eötvös Loránd University, is searching for the world's smartest dog.
The Genius Dog Challenge is the world's first ever live broadcasted scientific experiment.
From November 11th until December 16th, the six smartest dogs that the scientists found so far will amaze the world with their understanding of the human language. The dogs are from Spain, Norway, Hungary, Florida, Brazil and the Netherlands.
"Dogs that understand human language to this extent are very rare and valuable. They can help us understand how the human language works", explains Prof. Adam Miklósi, head of the Biology Institute, ELTE University.
Some of the dogs participating in this project already know the names of a hundred toys. The challenge will test the limits of their learning abilities in two stages. First the dogs will have a week to learn the names of 6 new toys. The second stage is twice as hard, giving the dogs only one week to learn the names of 12 new toys! At the end of each stage, for the first time ever, the dogs will be tested in live broadcasts over Facebook and YouTube.
We encourage dog lovers around the world to actively participate in the challenge and join us in this new journey to better understand our best friend. On the way we might also learn something about ourselves.
The challenge is conducted by an international group of researchers from the Department of Ethology at ELTE University in Budapest as part of the Family Dog Project which has been studying the behavioral and cognitive aspects of the dog-human relationship for almost 20 years. The project is lead by Shany Dror and in the team there are also some renowned ethologists like Adam Miklósi and Claudia Fugazza.
Have a look at the video trailer. You are welcome to visit the Genius Dog Challenge website and social media accounts.
In The Guardian: https://www.theguardian.com/